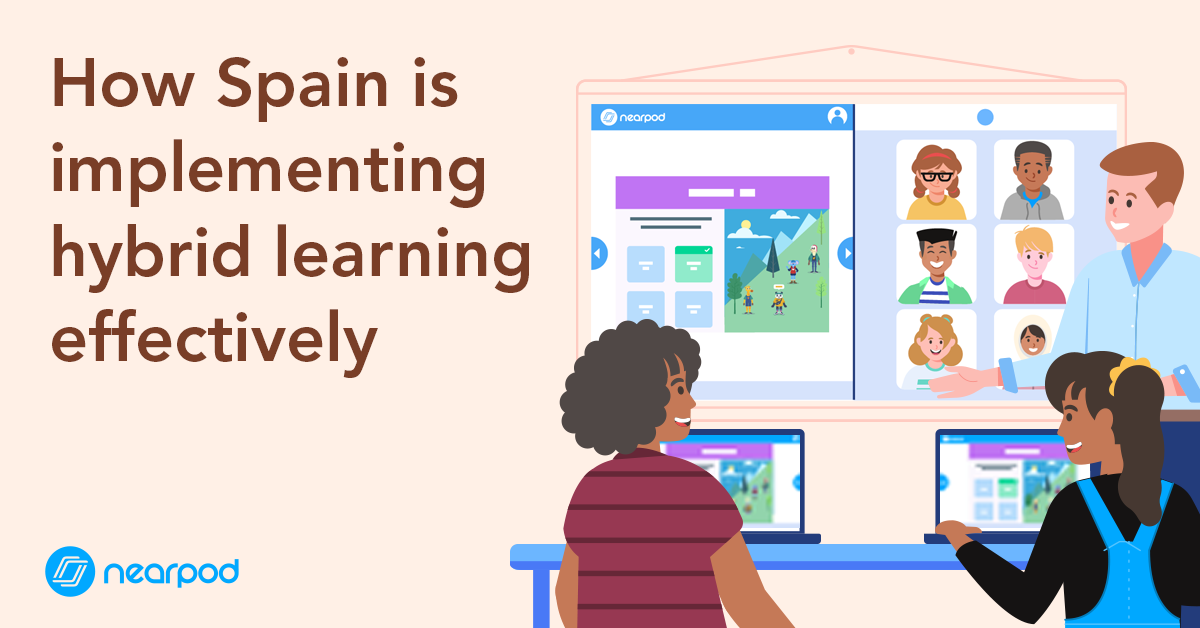 How Spain is implementing hybrid learning effectively
Is the future of hybrid learning in Spain? During the pandemic, Spain introduced some of the strictest lockdown measures globally. Teachers and students were forced to adjust to remote learning overnight.
Inevitably, there were bumps in the road to digital transformation, ranging from unexpected technology glitches to internet access issues in rural areas. However, Spain had one aspect in its favor: on average, 7 out of 10 kids aged 10 to 15 already have a smartphone. In this tech-passionate country, smartphone-equipped youth may have mitigated the movement toward teaching online and set new expectations on how students learn moving forward.
Today, students are back in the classroom, forcing schools to continue to manage students learning from home due to frequent covid infections. Through education technology platforms, schools in Spain balance asynchronous/synchronous online learning with synchronous front-of-class learning, introducing a hybrid approach, and it's working.
Are schools that don't adapt to hybrid learning doomed to repeat the same errors from our pandemic past? Here is how some schools in Spain are making hybrid learning work for them and the technology resulting in better-engaged students through interactive, practical learning.
Hybrid learning in Spain
Hybrid learning makes sense to combine the technological advantages of remote learning with the social benefits of in-person education. In addition, it's a solution that appeals to kids and teachers alike. According to a survey by Educo, Spanish kids prefer to go to school instead of staying at home, but they also want to keep the positive aspects of online education. They feel more engaged with new methodologies and enjoy using digital tools in the classroom.
Of course, teachers need to be adequately trained in making the most of classroom technology. Innovative use of technology can make a big difference: According to Quiero and Samsung Electronics, more than 70% of teachers think that technology facilitates teamwork, creativity, and interaction among students.
In Spain, hybrid learning has shown to offer many advantages. For tech-savvy K-12 students, digital tools can make learning more attractive. As kids explore new ways of learning through EdTech, they become more proactive in their education. Interactive lessons and quizzes help to improve retention while allowing students to master new material at their own pace and learning style. Meanwhile, gamification is becoming more common to motivate and engage learners at all levels. In Spain, these high-tech strategies offer a fresh alternative to old-school methods of learning based on memorization and cramming for tests. Hybrid learning brings more flexibility and dynamism to the classroom while helping students to develop digital skills.
Implementing hybrid learning
For these reasons, some schools are already prioritizing technology integration in the classroom. At the Vedruna de L'Espluga de Francolí school in Tarragona, primary education director Cristina Campos says, "The aim is to help our students to develop competency for an increasingly digital world. And for that, we need digitally prepared and critical teachers." In other words, schools that truly embrace technology are not simply replacing chalkboards with digital boards. Instead, teachers encourage students to interact with the main screen using their own devices and wireless connection, creating a more prosperous and inclusive learning experience.
So what will the future of hybrid learning look like in Spain? The pandemic has accelerated the digitalization of education, but progress still needs to be made in bringing all schools up to today's technology standards. In Madrid, while 60% of secondary school teachers believe that education has improved since the pandemic, 66% want to see more investments in educational technology to better compete with other European countries.
Nonetheless, according to Eurostat, Spain ranks fifth in the European Union for online learning among citizens aged 16 to 74. In 2021, 43% of Spaniards in this age group reported taking online courses or using online materials to learn, only behind Ireland (46%), Finland, and Sweden (45%), and the Netherlands (44%), while the EU average was 27%. Compared to pre-pandemic levels, the percentage of Spaniards taking online education increased by 15 percentage points. For many, online courses offer a convenient way to improve language skills, boost professional qualifications or learn something new for fun. Online learning has proven especially popular among young adults aged 16 to 24.
Higher education in Spain
Unsurprisingly, digitalization has also transformed higher education in Spain, creating new models for university programs. Many universities are betting on presential and semi-presential learning enriched by online activities. In these models, university students can benefit from in-person discussion and practical activities such as lab work while expanding and reinforcing their knowledge through digital tools inside or outside the classroom.
For hybrid learning to be effective, the technology itself has to be flawless. Reliable connections, user-friendly apps, clear audio, video transmission, and seamless real-time interaction are crucial to providing a positive learning experience with technology. The importance of this is not lost on students – in fact, according to Sony Europe, 79% of European students believe that their university experience would be better with more investments in online and hybrid learning technology.
Collaborative apps, gamification, joint remote learning sessions, and self-paced learning are just some of the features and advantages of hybrid learning models. Ultimately, these innovative tools are designed to facilitate the purpose of education: to better engage students through interactive, practical learning.
Are you an educator interested in bringing the benefits of hybrid learning to your classroom? Nearpod provides a wide range of interactive tools and digital content to help students learn and retain more with every lesson.
Interested in reading more about this topic? Check out this blog post: Singapore's move towards hybrid home-based learning
Account Executive and presenter, Fanny helps educators increase student engagement with Nearpod.