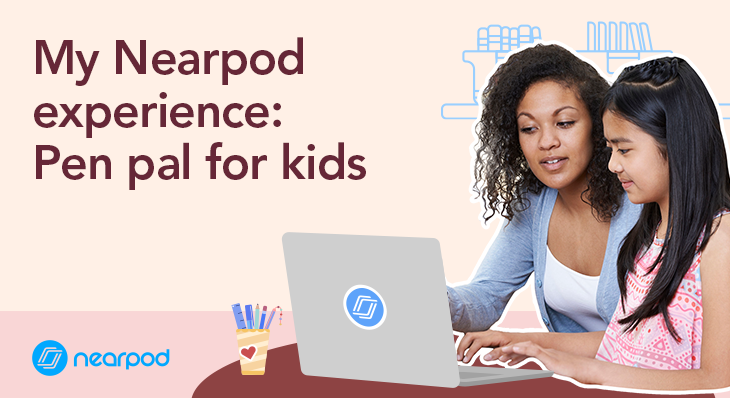 My Nearpod Experience: Pen pals for kids
As a teacher, creating your pen pals for kids program can be an exciting experience for educators and learners alike. Using the education resources of Nearpod, I developed an international pen pal program to help with teaching grammar and writing. My initiative was supported by technology such as Nearpod activities and content to facilitate a pen pal for kids' experience. Immediately when this idea arose, I knew that incorporating Nearpod into my program would provide students and teachers involved with a flexible, interactive, and engaging pen pal experience.
My pen pal program for kids was a way for me to incorporate project-based learning and multidisciplinary studies across several classrooms. I also used some traditional methods while also integrating 21st-century learning and technology.
Pen pals for kids: What was the purpose?
Some generations may recall the days when we received personal letters in the mail. Some students may even remember a special friend who they messaged back and forth with like a pen pal across miles. Most K-12 students were born into a world full of technology. They have the capability to text and type to others internationally in an instant. With our world being heavily influenced by technology, typing, and instant messages, handwriting could easily be swapped out and seem like less of a priority in many occurrences. My pen pal program was inspired by creating opportunities, emphasizing connections, and extending beyond the walls of the classroom using both technology and handwriting. International teachers have a unique opportunity to reach out to their home-based connections for a pen pal international experience.
Safe pen pal programs: How did Nearpod help?
Through project-based learning, international pen pal programs allow students to discover and connect with other students and their experiences from the comfort of their classroom. Learners can read and write about the perspectives of students around the world. You can create safe pen pal programs by hosting the lesson through your Nearpod account and/or by having students use their own student accounts.
With Nearpod, you can oversee and guide what students are doing in real-time, so you can always ensure digital citizenship skills are being practiced in a safe environment. Schools usually have different levels of cyber safety for students, especially to support the new norm of flexing between distance learning, hybrid, and in-person learning. The "new normal" of distance learning and more technology may be daunting to some, but Nearpod is one resource that addresses the needs of teachers across the globe. The foundations for a safe pen pals program for kids should be flexible and safe. Nearpod ensures teachers can alter their lessons at any time while protecting students' privacy and cyber safety.
Merging standards-aligned content with rigorous instructional strategies for students might seem complex at times with the constant changes in the teaching industry. In my pen pal program for kids, young digital global citizens were asking and answering questions while demonstrating their understanding across subjects. We sometimes wrote out the questions in notebooks, and submitted them on a Draw-It or Collaborate Board. Then, I shared the submitted questions with the students so they could see their peers' responses. This prompted students to edit and revise their written responses.
Nearpod has premade standards-aligned social studies lessons and activities exploring geography and cultural norms that are useful to share with students for international pen pals. It's beneficial for visual learners to gain perspective on what the location looks like for places around the world as we encourage them to be global citizens. Providing the context around cultural norms and geography help students to compare and contrast the life of their international pen pals with their own and strengthen real-life connection opportunities to their lessons.
Here are examples of how Nearpod features support the lessons:
Visual Support: VR Field Trips and a hefty library of interactive videos where kids can safely search for where their pen pal international peers are located and gain visual context to prompt ideas for writing.
Learning Different Languages: Matching Pairs also helped to support vocabulary for ESL words that the students found challenging with the letters received by their pen pals.
How were students assessed using Nearpod features?
Teachers can check for understanding and guide the learners through the units with Nearpod activities as formative assessments that can provide informal and formal data in reports to track learning with students. Summative assessments can be considered as well as sharing out and reviewing student responses to Open-Ended questions, Collaborate Boards, and Time to Climb activities. Take a peek at what some of the students added in their share to our wrap-up Collaborate Board:
As students are engaged with the content and features, educators can use Nearpod to acknowledge progress and note opportunities to reflect throughout the writing process as students brainstorm, draft, edit, revise and publish their letters. Nearpod can be used throughout or in specific parts of your classroom experiences.
How Draw It can support your pen pal program:
Use the Draw It activity to have students interact with their pen pal's writing to analyze their vocabulary and grammar.
Add an image of the handwritten note or letter as the Draw It background to model and highlight specific parts of the letter, such as vocabulary words and spelling.
Have students follow along on their own devices and highlight modeling on their own screens.
Nearpod features and tips to keep in mind:
Google Safe Search: Host safe pen pal programs for students by using the Google Safe Search ability on Nearpod's Draw It activity. Students can search images and add them to their activity with this functionality.
Reuse past resources: Have a trusted resource you'd like to use? Convert existing Google slides, PDFs, PowerPoints, and more into a Nearpod slide.
Gamification: It's also fun to create Time to Climb questions based on some of the fun and informational responses shared from pen pals.
Wrap-Up: For an online celebration, use Collaborate Board for the pen pals to share program highlights. Students miles away can post in the same Collaborate Board in real-time to reflect on the program. This exercise helps build community amongst students and their pen pal classmates.
Building a community with fellow teachers: How to find pen pals
Participating in Nearpod's community offers opportunities to collaborate with amazing educators around the world and allowed me to collaborate and enhance this pen pal program for kids. Connecting with other educators in the Nearpod community allowed me to expand the possibilities for their pen pal activities using Nearpod content and features.
Thanks to Nearpod's Camp Engage professional development sessions, I was able to connect with a fellow Nearpod PioNear who teaches the same grade level. Attending Camp Engage is a great way to hear from and collaborate with teachers who are interested in using Nearpod content and activities in exciting new ways. These teachers were happy to join the program as well and agreed to receive the handwritten notes from my students and have their students respond.
I shared my unit plan ideas and suggestions on how we could use technology and Nearpod to support the learning objectives- hence, my pen pal program for kids came to life! Through handwriting, technology, and Nearpod, a creative synergy was made. The pen pal program was a success!
Meaningful learning experiences for students
Some experiences impact students for years to come. Along with the memories of being thrust online with recent world events, my pen pal for kids program allowed students to use their pencils and notebooks along with their computer screens. The smiles the students had when they completed their writing, sent their letters, and saw their pen pals for kids program buddies is a memory they may have for years to come! It was endearing to hear the administrators of the schools reminisce about these creative writing opportunities.
Not only was their joy and charisma in the speaking and listening efforts for the students, but the reading and writing challenges for the students came along with an additional reward that they used then and can carry with them. Nearpod was an excellent choice to create lessons while providing the flexibility to support instructional strategies.
Teaching writing and grammar to our students using project-based learning ideas like a pen pal program provides an interactive, engaging, and inspiring experience for students that we will always cherish. Striving to fulfill unit requirements and keeping students engaged can be achieved through a pen pal model program for kids. So get those pencils and notebooks back out and plug in your school devices. Use Nearpod for activities and features that support your grade level objectives by creating a pen pal program for kids!
Interested in reading more about this topic? Check out this blog post: 5 Student voice tips for teachers to encourage passive learners
Tech-savvy international educator, Nearpod PioNear, and lover of literacy encouraged by sharing ideas and strategy for the profession that teaches all other professions.